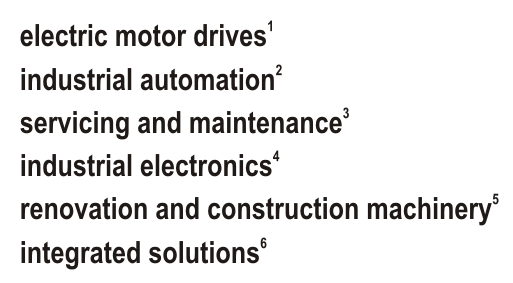 Electric motor drives
Collaborators of the company have extensive knowledge and experience in the development, production and application in the field of drives. We offer both individual components, as well as integrated solutions of tasks.

We also offer help with the selection of devices, installation and system start-up, adjustment of setting parameters to the customer requirements. We also perform servicing and maintenance of purchased equipment and systems, as our company is officially authorized for carrying out these services.
Frequency converters:

In the sales program, we offer standard products:
Simple solutions for families of inverters SINAMICS-G, MICROMASTER and COMBIMASTER with their derivatives manufactured by Siemens
demanding solutions for family of inverters SINAMICS-S and MASTERDRIVES manufactured by Siemens


Costum designed frequency converters:

We also make assigned frequency inverters, adjusted and optimized to specific customer requirements. Many frequency inverters (up to 5) and also a small programmable logic controller for the rest of automation can be integrated in such a device. .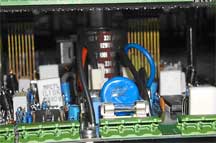 Integrated inverters control (steer or regulate the speed of rotation) the drives, the device leads the rest of the automated drives through its digital and analog inputs and outputs. The devices are also equipped with RS 485 interfaces for connecting to higher-level systems. Such a solution is optimal for machines (units) with some (up to 5) drive systems
Soft starters

Simple solutions with devices for soft start are sufficient most of the time for simple applications (controlled start and/or shutting down asynchronous motors). We offer high quality soft starters SIKOSTART of manufacturer Siemens, namely the implementation of SIRIUS 3RW3* for simple use and SIRIUS 3RW44 for complex automated systems.
Drives with DC motors

Despite the huge break-through of AC alternating drives to virtually all areas of use, solutions to the DC-motors still "rock" because of their special characteristics in some applications. For such cases we offer solutions to the use of DC-converters of family SIMOREG DC MASTER, manufactured by Siemens in conjunction with Siemens DC-motors or motors of other manufacturers.
AC-servo drives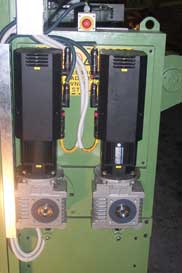 As far as highly demanding applications go, we offer optimal solutions to the use of AC- servo drives with alternating motors:
appliances and motors of family SINAMICS –S, SIMOTION –D and Simovert MASTERDRIVES MOTION CONTROL manufactured by Siemens
appliances and motors family ECODRIVE manufactured by Indramat
appliances and motors family UNIDRIVE manufactured by ControlTechniques

The selection of equipment is determined by the complexity of the drive and technical requirements of the buyer.
synchronized lines of larger scale (paper manufacture; manufacture and control of technical and common cloth; manufacture of articles from sheet metal and other materials; manufacture of glass products; dosage, transport and regulation drives in the energy systems, process industry... )
one and a multi-axle positioning systems (printing machines, coordinate actuators, feeding devices,...)
winding and unwinding systems (paper, cloth, conductors,...)
elevator drives (displacement, raising and lowering)
drives of personal elevators
volume dosing
air conditioning
pumping
technology regulation pressures, flow rates, ...
mixers
agitators
simple drives, conveyor systems
industrial automation
Some examples of our applied solutions are presented in our references and publications and articles .